I spent Christmas 2016 with my mom, who lives in Australia. I will probably write a separate blog about that trip, because Christmastime in Australia is beyond AMAZING!!! 
Anyway. While booking tickets to OZ I saw that the cheapest flight, by far, was with Hawaiian Airlines, with a several hour layover in Honolulu. I had never been to Oahu, and that's when I realized I could have two vacations for the price of one! :) 
On the way to Sydney from Los Angeles, my layover was 14 hours. Overnight.
I landed at 9pm and was set to depart at 11:30am. 
So I booked a hotel (via Expedia - I almost always use Expedia and accumulate points). 
My hotel selection criteria were:
- closest to the airport (so I wouldn't waste time getting to/from) 
- not too expensive but not a dump 
- has a swimming pool (swimming is an amazing way to shake off the airplane fatigue and clear out those sinuses!) 
- safe (since I'm traveling by myself) 
- ocean-adjacent (while in Hawaii, why not?)
After an hour-long search I found that even a crappy hotel in Honolulu is quite expensive. So I chose Hawaii Prince Hotel Waikiki. I have stayed at the Prince Hotel on the Big Island in the past and loved it. Thanks to my accumulated Expedia +Gold points I got it next to nothing. Yay! 
I found that the most economical way to get to the hotel is the Speedi Shuttle ($30 roundtrip). Because my hotel was one of the closest to the airport, I was the first to drop off and the last to pick up in the morning (the driver, Tuan, was awesome!)
When I got to the hotel (very pleasant, by the way!) I learned that their swimming pool was being renovated. I was really frustrated as this is something I was really looking forward to. I was also recovering from a cold and I was really tired. Besides, this was one of the main reasons I chose this hotel (the pictures on their website show a gorgeous swimming pool and a pool bar). I expressed my feelings to the manager. I have to say, he was very nice and arranged for me to go to the hotel next door in the morning and swim there. 

Why am I so adamant about swimming, you ask? As you know, when you fly, your body is subjected to a multitude of hardships, one of which is drying and congestion of your sinuses. According to doctors, change of cabin pressure combined with breathing very dry, stale air can irritate and congest your sinuses. This creates perfect conditions for those pesky viruses and bacteria circulating to simply get stuck in your sinuses, multiply to their heart's desire and make you sick.

I have worn a mask while flying for years now. One of those scary surgical ones. What it does is help retain moisture as you breath out and also minimizes the amount of whatever's in the air getting into your system. But even with the mask my sinuses get stopped up a bit. Plus you're stiff, you're exhausted, and being in the water feels good for your back and for your whole body and mind. It's a great, refreshing exercise. The chlorine in the pool (or the natural salt in the ocean) helps clear those sinuses.

Okay, now you know about my obsession with sinuses and flying! You're welcome :)

Back to Honolulu. It was about 10pm, and since I couldn't swim I went for a little night cap at the bar next door (Chart House Waikiki).
The night was beautiful and the ocean breeze was divine. Awwwww, Hawaii!!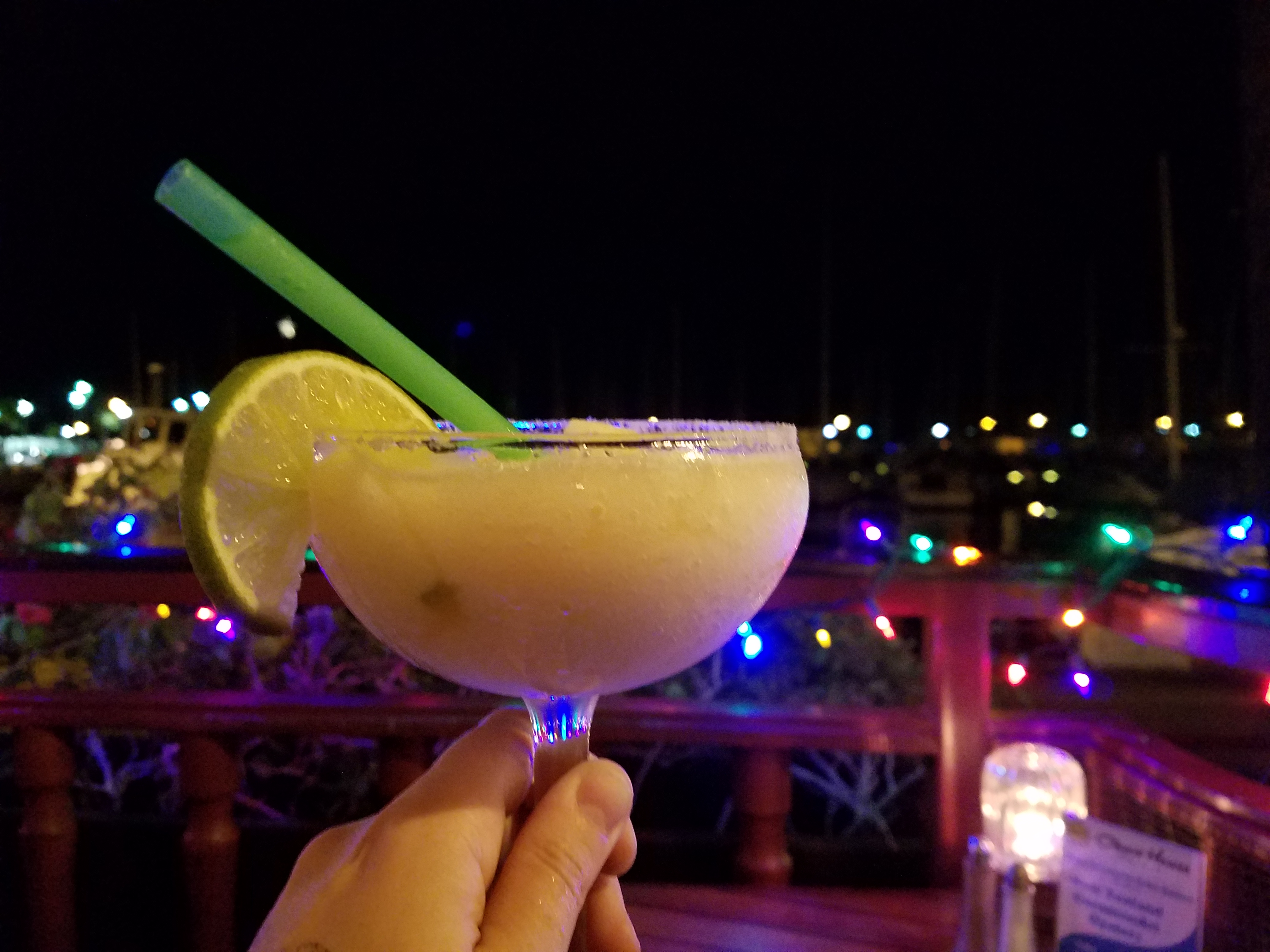 My room was great. Among many nice things it had one of those fancy Japanese toilets with a self-warming seat. And the room's enormous floor-to-ceiling window had a blackout curtain, operated by a button.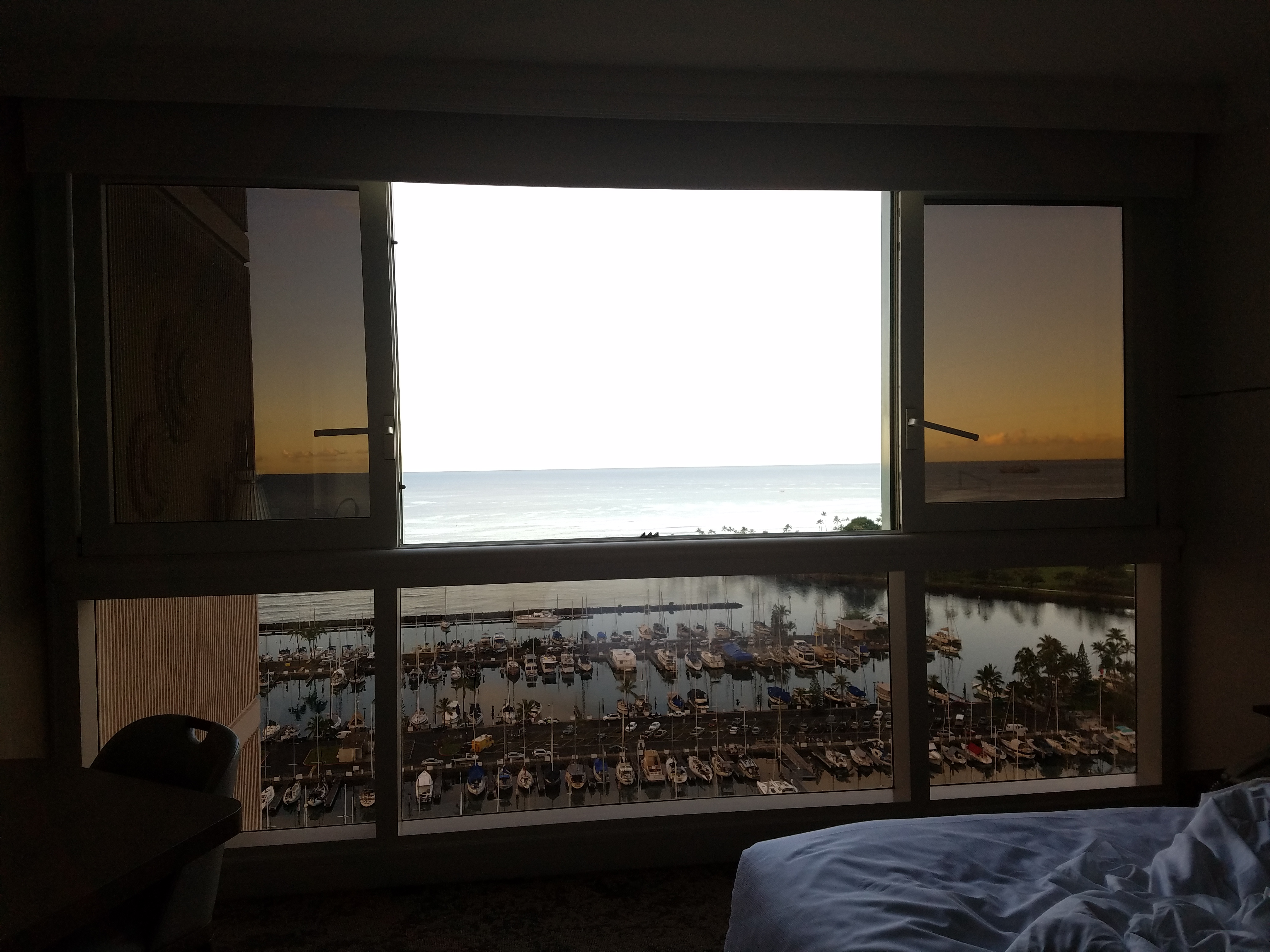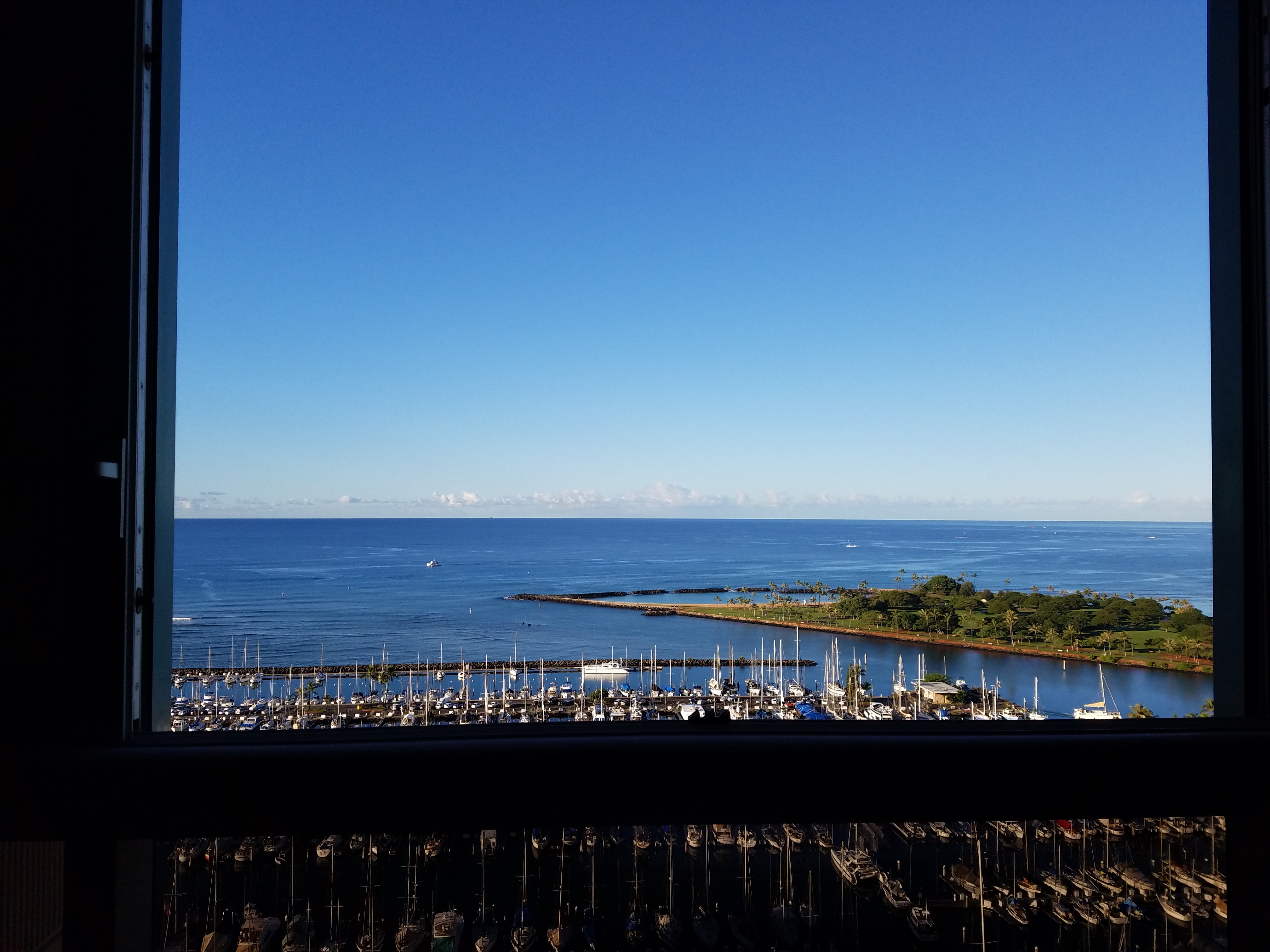 I woke up in the morning and took the elevator down to the front desk. The view from the elevator was breathtaking!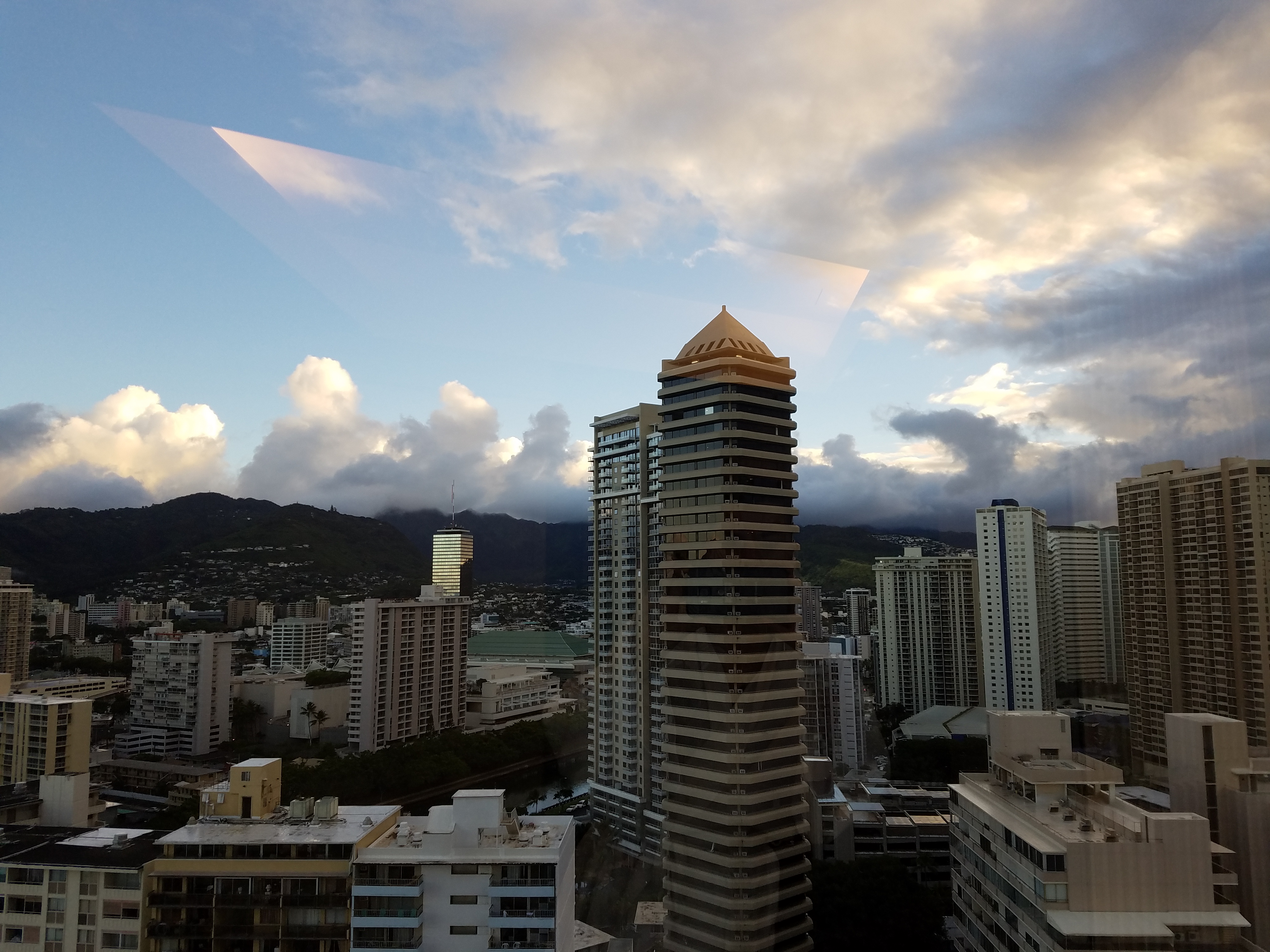 In my hotel bathrobe, I was courteously escorted to the hotel next door (The Modern Honolulu) to swim. They gave me towels and everything I needed. I was the only one there. It was 7am.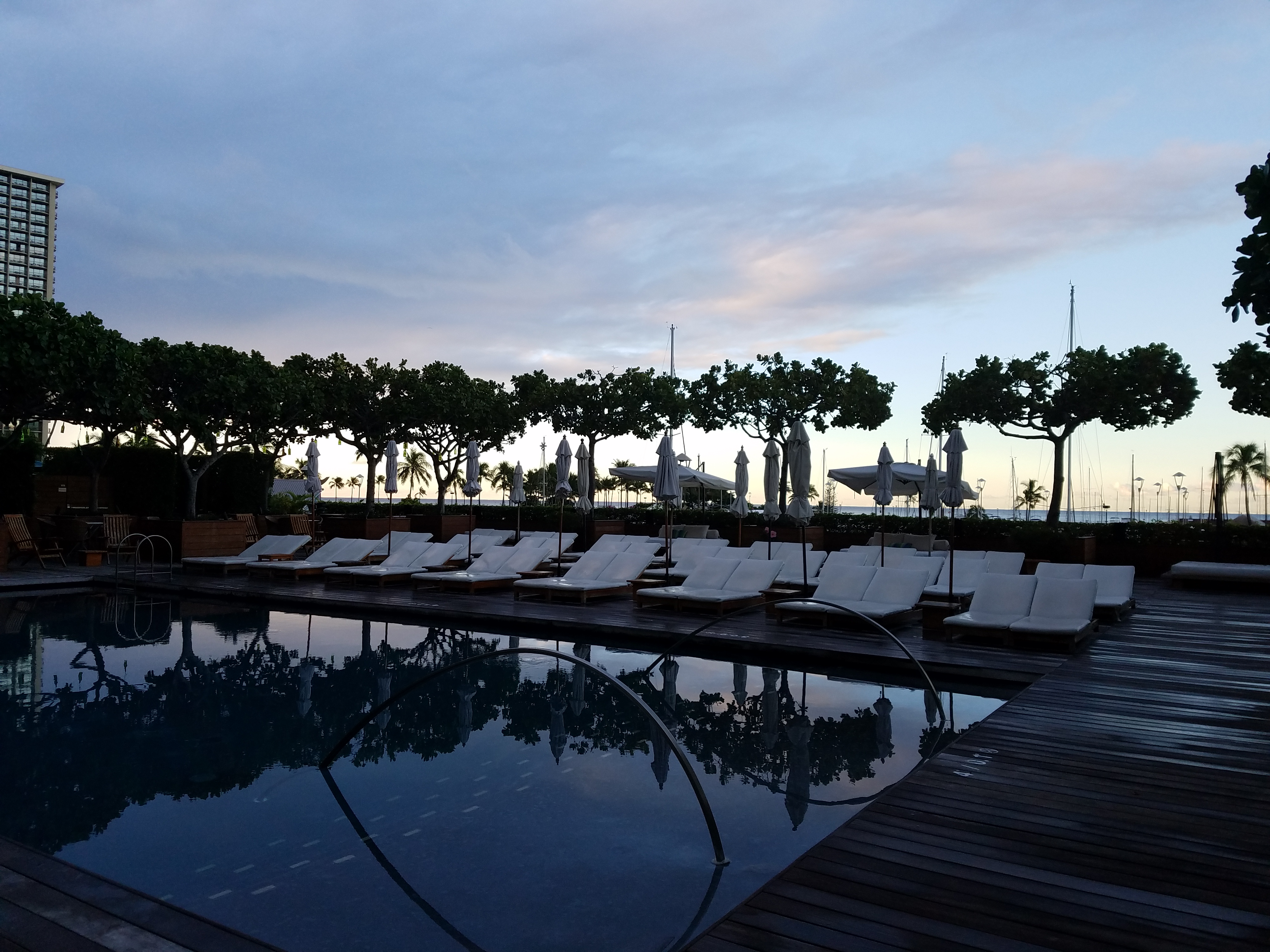 After my swim, I returned to my room, took a shower and went downstairs just as my shuttle arrived. As I was the last one to be picked up, we went straight to the airport.

Did you know that Honolulu airport has a very nice outdoor garden with benches? I got some food at my terminal, and had lunch in this lovely garden. The birds were chirping, lizards were running around, it was so nice! I even bought myself a lei for $6. It smelled divine and I wore it on the whole 10 hour flight to Sydney.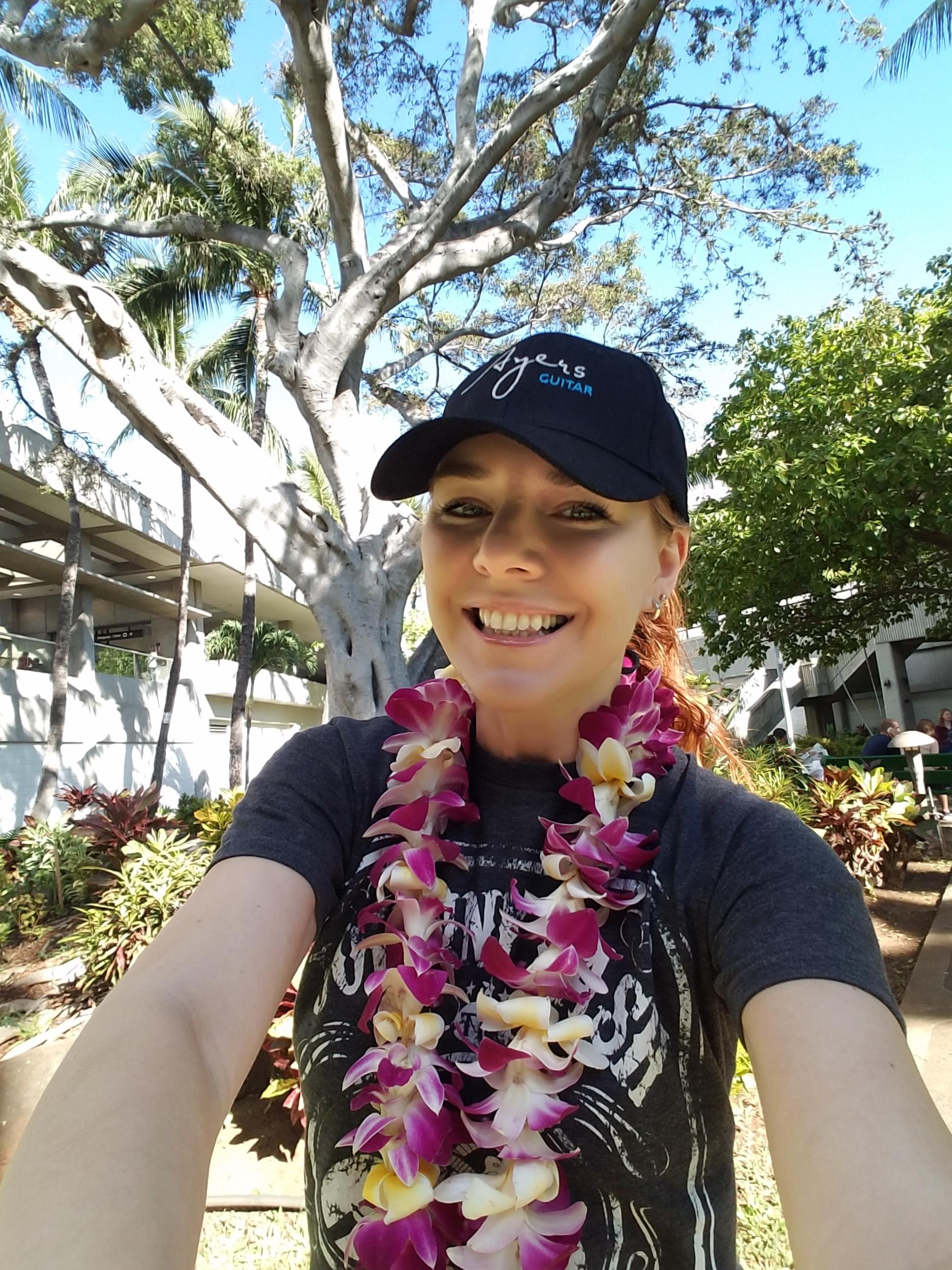 I spent 2 weeks in Australia with my mom.
It was just lovely. I really should write a blog about my trip!

Anyway. On the way back to L.A., this time my Honolulu layover was in the daytime. My plane landed at 10:15am and was set to take off at 9:40pm. I knew I had to make the most of my time! With long taxiing, getting luggage (they don't let you store it at the airport) and signing for the rental car, I wasn't out of the airport until 12:30. I had taken the time in advance to study Oahu and I knew where I wanted to go.  
One of my goals was to go snorkeling at Hanauma Bay, one of the most beautiful beaches in the whole world. Clear, gentle, warm water, hardly any waves, protected from strong currents by reefs and sporting beautiful white sands and palm trees. And LOTS of tropical marine life, the main attraction. As a big snorkeling aficionado, this was my chance to explore this natural beauty!!

However, from what I had read online, I knew that my chances of getting there were rather slim. Parking at this gorgeous nature preserve is extremely limited and usually fills up by 9am. There is literally nowhere else to park for miles and miles.
The drive from the airport took less than 30 minutes. And what a drive! After my 10 hour flight from Sydney, I was happy to put on my summer hat, sunglasses, let my hair loose, roll down the windows and feel the warm, perfectly humid air on my skin. Paradise in a makeshift convertible!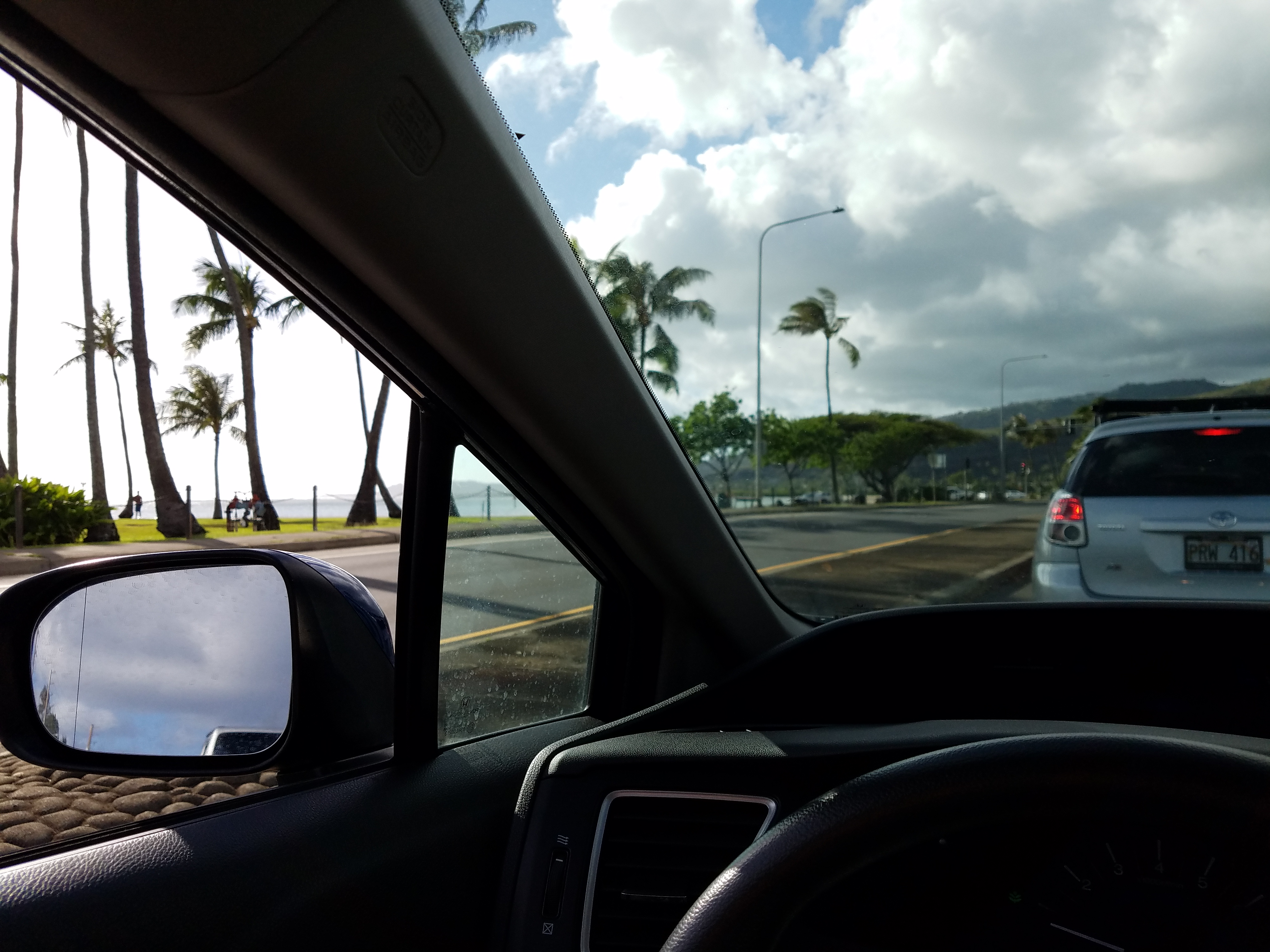 As I reached Hanauma Bay, there were big signs saying Parking Lot was full. Hoping to try my luck a little later, I drove a few miles further, knowing there would be great lookout points to check out. Parking at lookout points was full too. But I emergency parked for a few minutes at each of the two vista points, took it all in and snapped a few photos.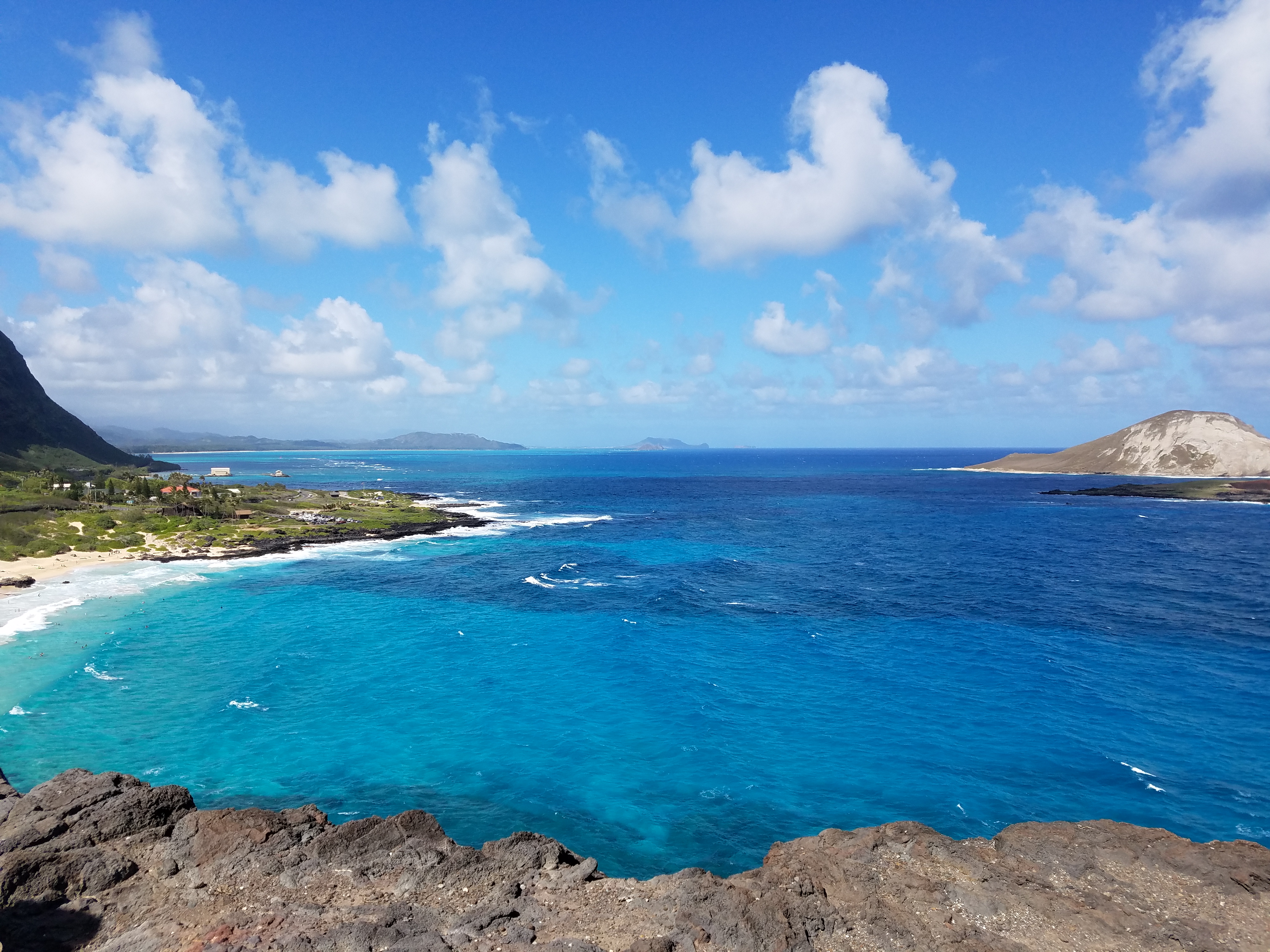 After my detour (which took about 20 mins), I drove back and saw the Hanauma Bay Parking Lot Full signs again. But that's when I decided to take my chances. I pulled up to the closed parking entrance anyway, hoping to plead my case to the parking lot attendants. A miracle happened!! One of the attendants said, "OK, someone just left, go on in!!"  Wow! It worked!
I parked in the lot, took a picture of my rental car (to remember what it looked like and where I parked), discreetly changed my clothes to my swimwear (with a dress on top) and got in a short line to enter the park. At Hanauma Bay you have to pay a few dollars to go in (all money goes to help maintain & preserve this beautiful place) and to watch a 10-minute (super cheesy but necessary) film instructing you not to touch the coral or feed the fish. As you walk out of the movie theater, the bay is laid out at your feet. Wow.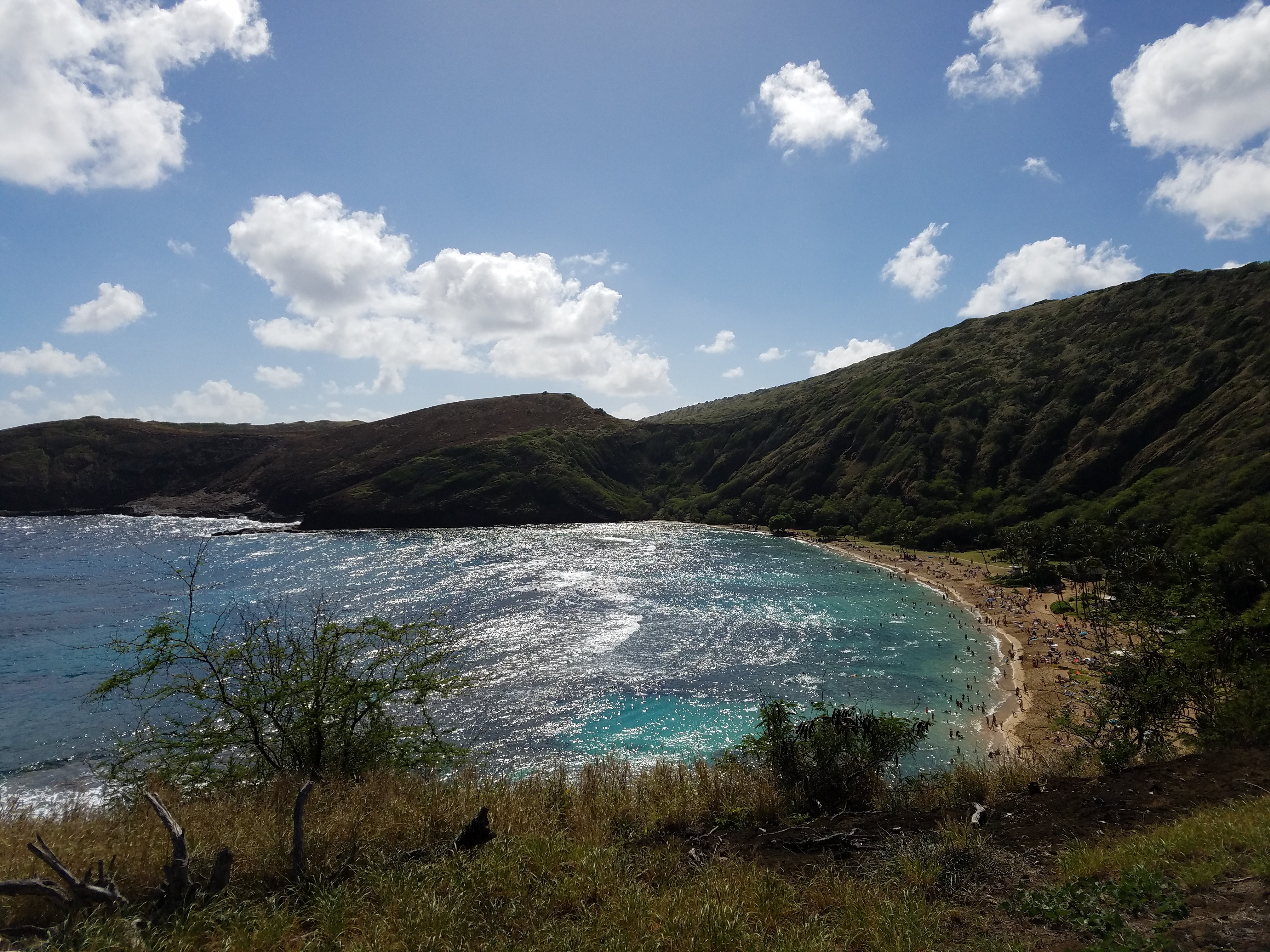 I was worried about my stuff (like my passport, wallet, cellphone, purse) being on the beach while I was in the water. The park website specifically states not to leave valuables in the car. Thankfully, there were lockers for rent inexpensively. I did that. And then I spent the next hour in the water. Wow!
I snorkel free style. I just wear snorkeling goggles so I can see underwater, hold my breath and swim. That's it. This time, I also wore water shoes since there were a lot of sharp rocks and corals.
I also use natural/biodegradable and coral-safe sun block. Did you know that millions of gallons of sunscreen go into the ocean each year in Hawaii alone? The normal sunblock contains frightening chemicals which bleach the corals and harm the turtles. So a couple of years ago Nick & I found a marine-life-friendly sunblock and have been using it ever since. I personally LOVE Tropical Sands SPF 30 Biodegradable Water-Resistant Sunscreen, but there are many other coral-safe ones out there!
I saw lots of  cool fish I had never seen in Hawaii before. Like this one: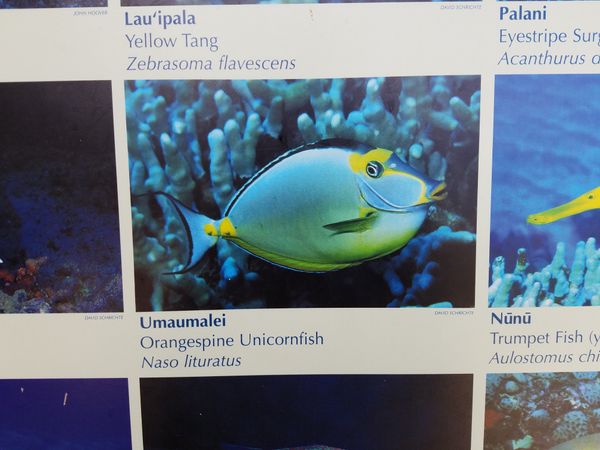 After swimming for an hour in this beautiful (but way overcrowded) place I realized I was famished. I saved time earlier by nibbling on some of the snacks from the airplane while driving and refilling my water bottle at Hanauma Bay water fountain, but I was ready for dinner!  
I drove to Honolulu (only a 15 min drive) to a cool restaurant on the Waikiki Beach called House Without A Key (at the Halekulani Hotel), which I had found online a few days prior. It was beautiful and the food was exquisite! The bathroom facility was really nice too. I was able to wash my face and look decent for dinner.  
My very first time on Waikiki Beach started off beautifully! As I usually avoid meat and carbs while traveling, I had mixed greens with local poke. Delicious!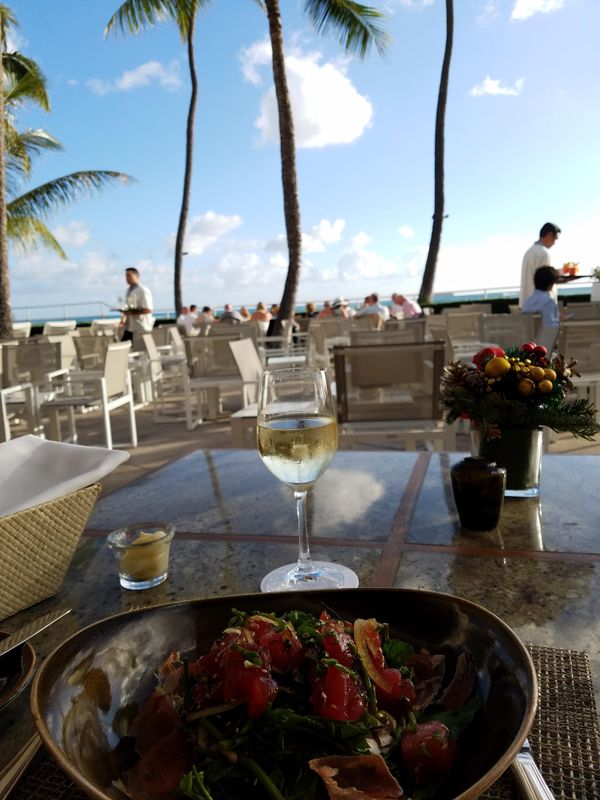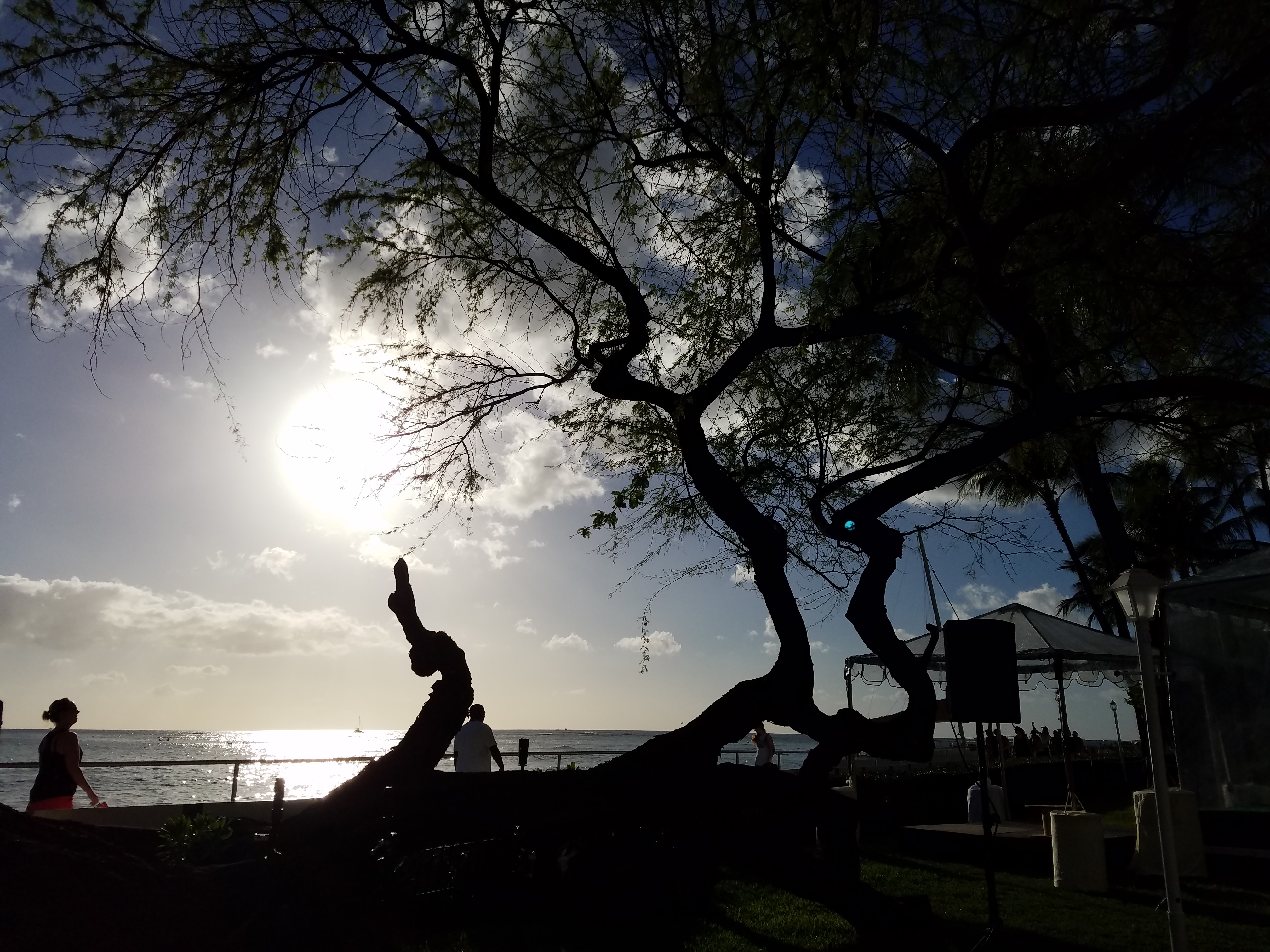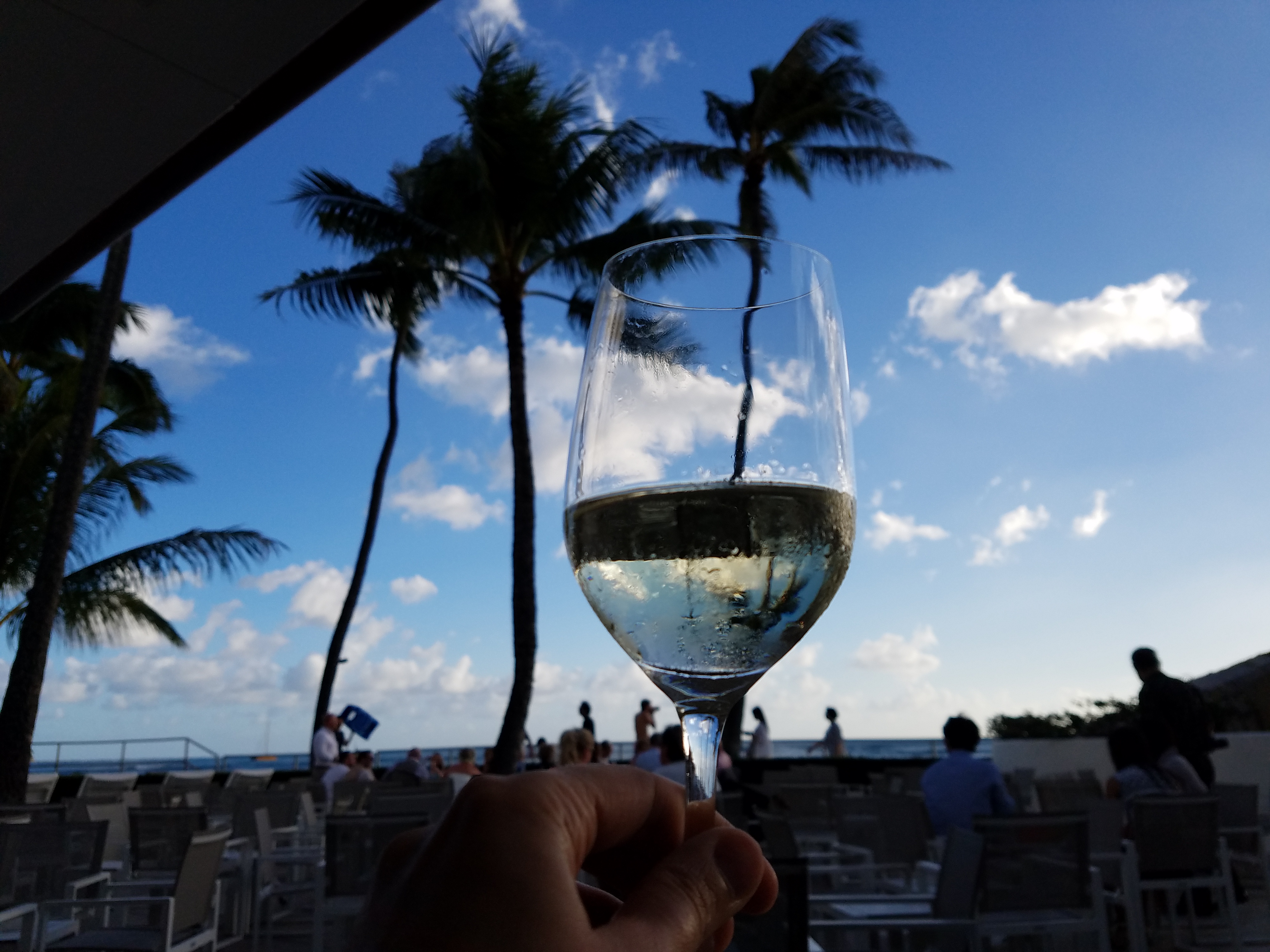 After my light dinner I strolled along Waikiki Beach.  So beautiful! Just a bit crowded (for my taste). But beautiful still.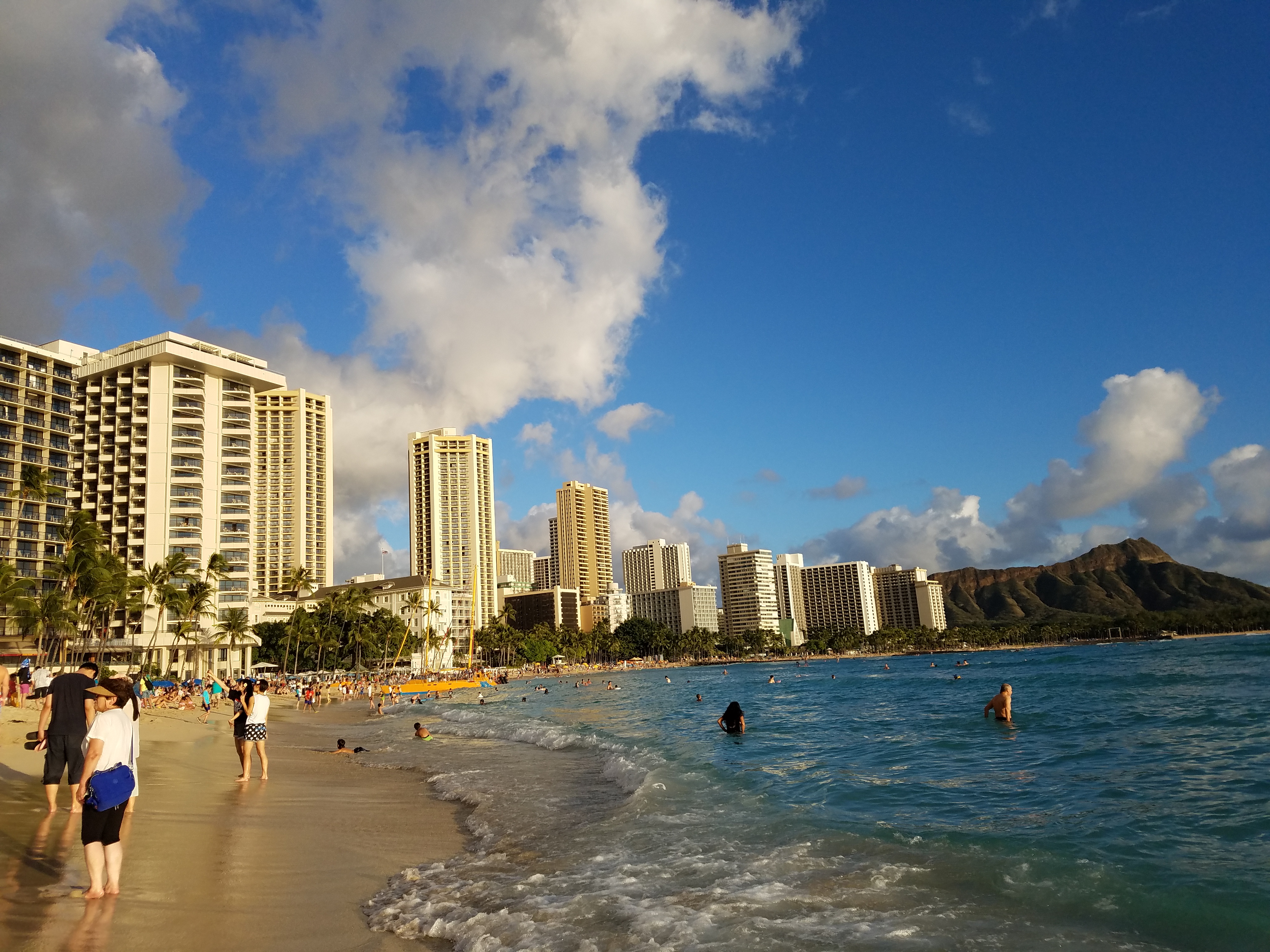 As it was nearing sunset it was my last chance to go for a swim. Worried about leaving my stuff on the beach (not that this place is full of criminals, but better safe than sorry, right?), I asked a nice girl (who happened to be from Finland, and was sitting on the beach reading a book) to watch my purse. Next 45 mins swimming and playing in the waves and watching sun set over the horizon was magical. I got out of the water just in time to snap this photo: 

After this, I made quick trips first to a public shower to wash off the sand, and then to the Sheraton Waikiki bathroom to change out of wet swimwear.  It was time to drive to the airport. I took a quick walk in Honolulu back to where I parked (a local recommended one of the least expensive parking places: Royal Hawaiian Center, $4 with validation) and watched the shoppers and tourists walk by.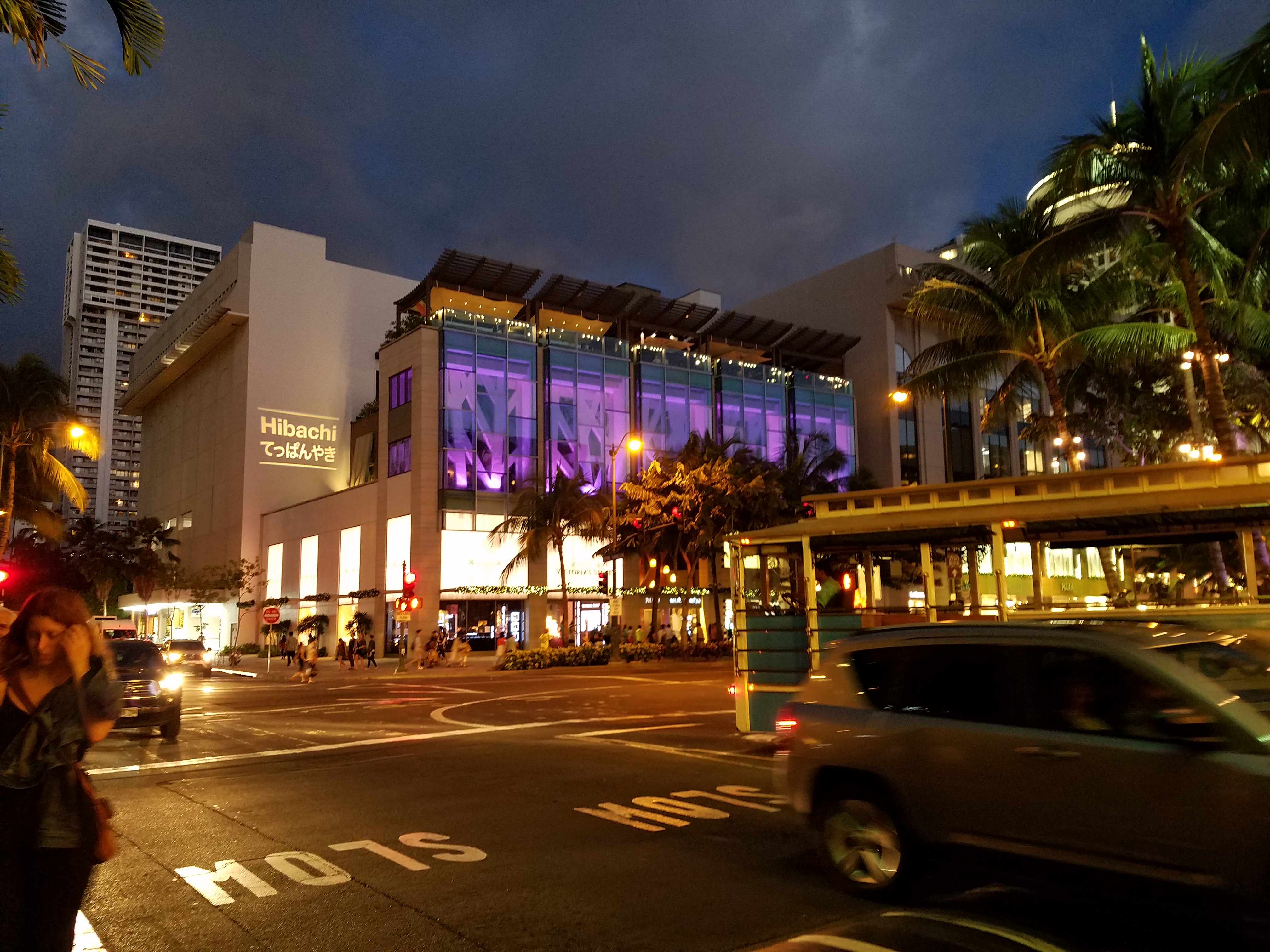 I was sad to leave Hawaii but was beyond grateful that I had a near-free mini-vacation in Oahu! 

Have you ever had a long layover in Oahu? What did you do?
What about a long layover somewhere else?
Please post in the comment section below!!

Thanks for reading!

#halekulanihotel #halekulani #housewithoutakey #hanaumabay #honolulu #hawaiianair #hawaiianairlines #layover #sheratonwaikiki #hawaii #hawaiiprincehotel #princehotel #themodernhonolulu #expedia #charthousewaikiki